Doctor's Gate - Peak District Walk
Saturday 25th February 2006
A walk that didn't quite go to plan. Today's walk was meant to go via Doctor's Gate to Higher Shelf Stones, Bleaklow Head and then across Bleaklow to Clough Head and back to Old Glossop, however conditions on top of Bleaklow very quickly altered that plan. Once we arrived at Doctor's Gate and started along the Pennine Way we quickly realised that whilst walking along the path presented no real problems cutting across Bleaklow to either Higher Shelf Stones or Clough Head would be a different matter altogether, due to the depth of the snowdrifts we would have no idea how deep we would be sinking with each footstep, so the decision was made to turn back.
Start: Old Glossop (SK 0450 9477)
Route: Old Glossop - Doctor's Gate - Pennine Way - Hern Clough - Doctor's Gate (path) - Old Glossop
Distance: 10 miles Ascent: 496 metres Time Taken: 4 hrs 30 mins
Weather: Cloudy with short bursts of sun but very cold with a strong wind.
Pub Visited: Snake Pass Inn Ale Drunk: Theakstons Best Bitter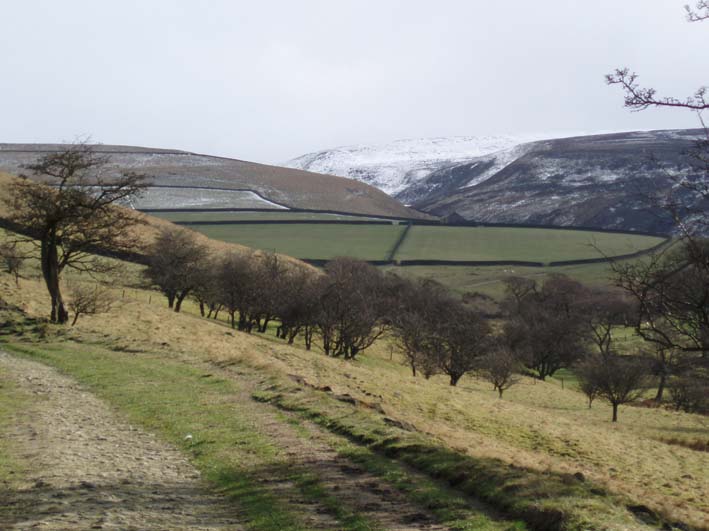 Looking along Doctor's Gate Path with Birchen Orchard Clough covered in snow.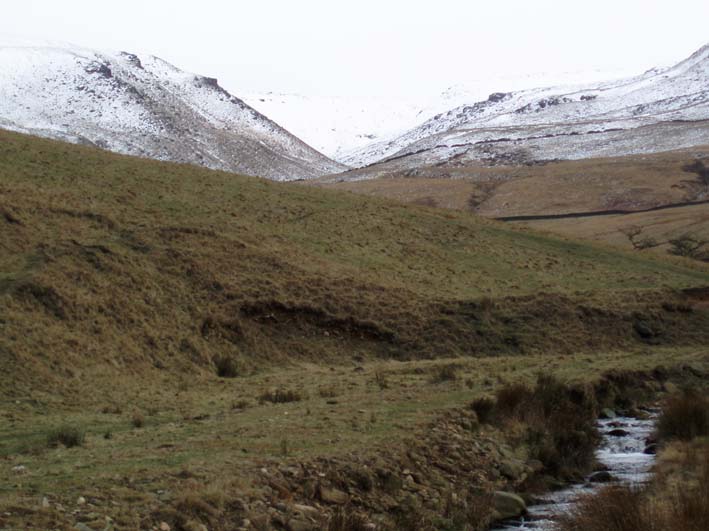 Looking up to Yellow Slacks from Doctor's Gate Path.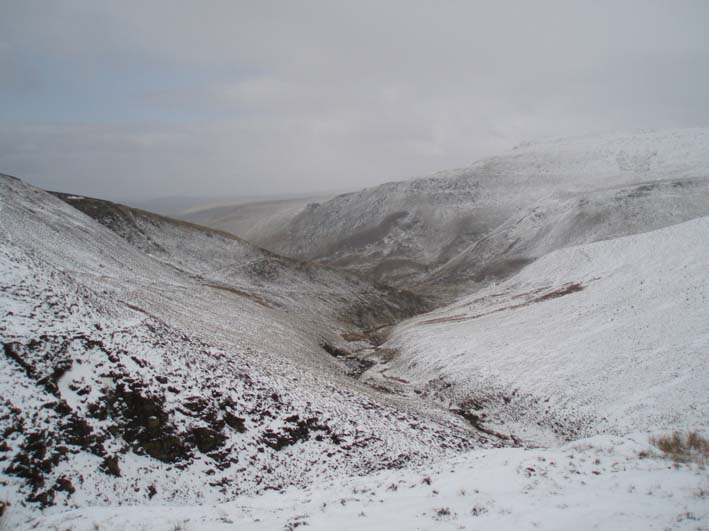 Looking back down Doctor's Gate Path from near Ashton Clough.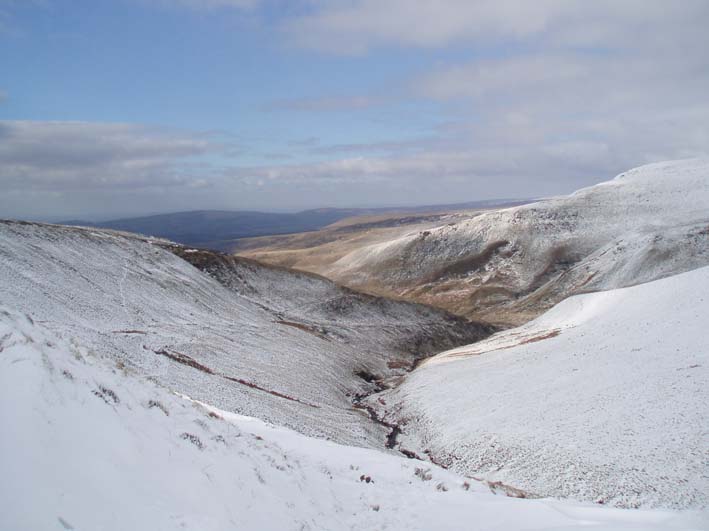 The view from the top of the path to Doctor's Gate, the path up to Doctor's Gate is visible on the left.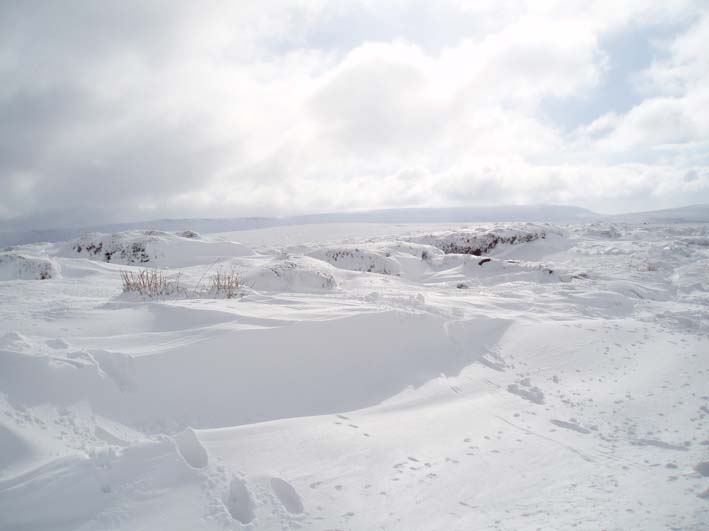 Looking across the snowdrifts on Bleaklow, Kinder Scout is in the background.
It was at this point that we decided to turn back.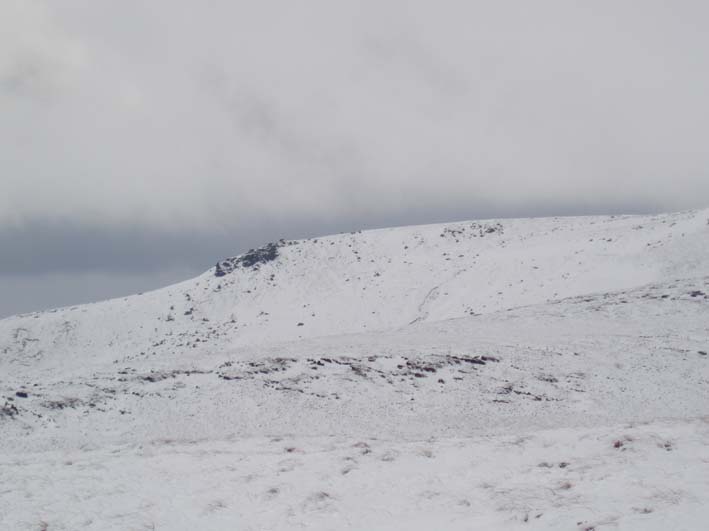 Higher Shelf Stones from the Pennine Way. For the second time in a year I have failed to get to them,
the last time due to low cloud making navigation extremely difficult.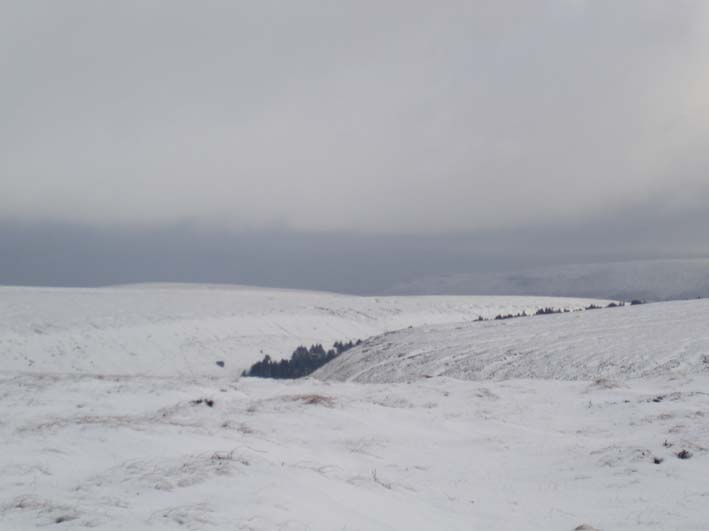 From Doctor's Gate the Snake Pass road follows the line of trees.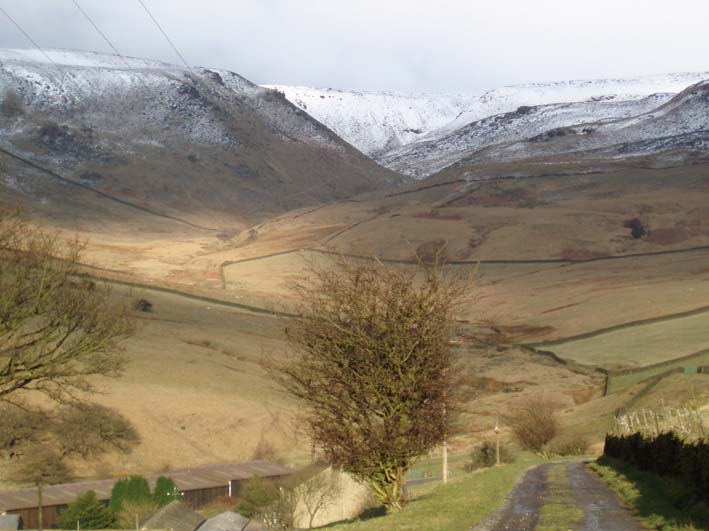 Yellow Slacks comes into view from the path by Mossy Lea Farm.
All pictures copyright © Peak Walker 2006-2023