Grange Fell - Lake District Walk
Sunday 19th October 2008
The forecast was for gale force winds and heavy rain to be moving in around 2 o'clock so we made an early start and planned a route that would mean we should be off the fells by the time the rain and wind was expected. What we didn't plan on was taking the wrong path out of the car park and 40 minutes later ending up back at the car. The instructions said take the stile over the wire fence, which we did, only our route was now via a gate not a stile. Mystery solved we set off again on the correct path. There aren't many pictures of this walk because for much of the walk it was raining and my camera was in my rucksack keeping dry.
Start: Bowder Stone car park (NY 2535 1686)
Route: Bowder Stone car park - King's How on Grange Fell (276) - Brund Fell (277) - Puddingstone Bank - Bowder Stone - Bowder Stone car park
Distance: 4 miles Ascent: 485 metres Time Taken: 4 hours 20 mins
Terrain: Clear tracks.
Weather: Strong winds and wet.
Pub Visited: Riverside Bar, Rosthwaite Ale Drunk: Copper Dragon (Skipton Brewery) Best Bitter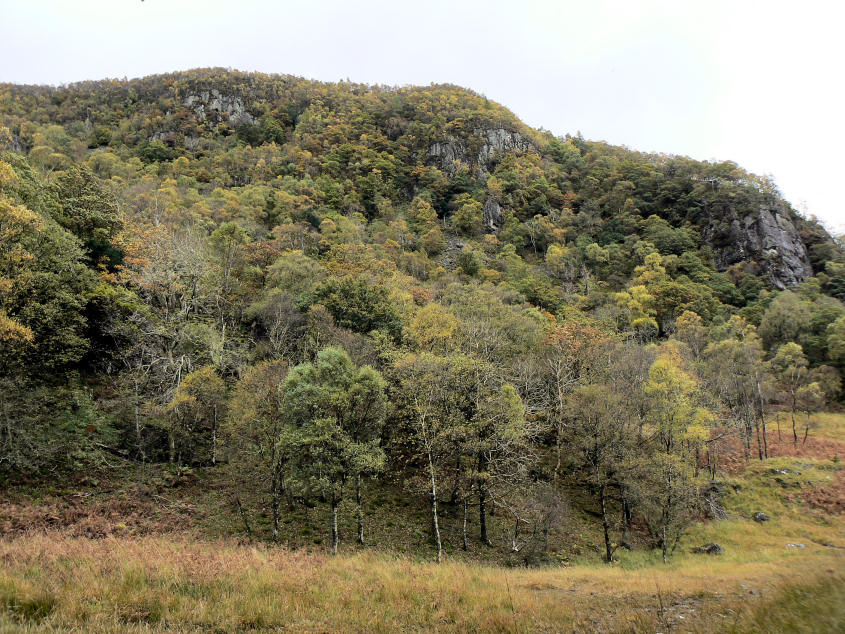 Autumn colours in the woods from the path through the old quarry.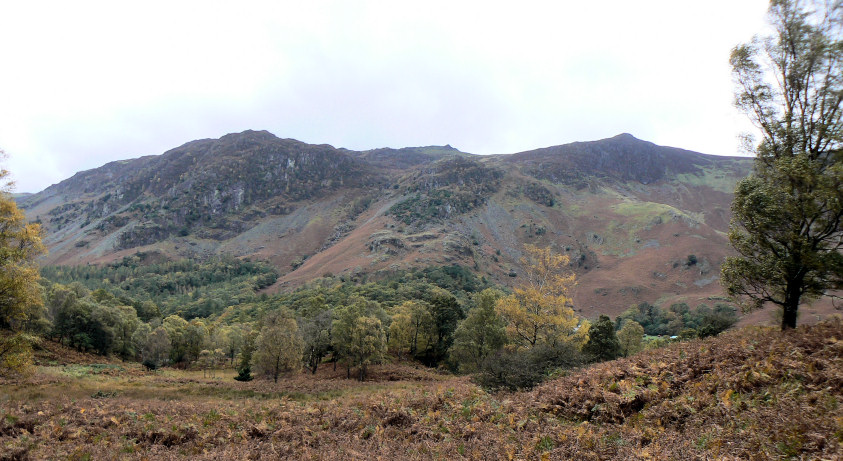 High Spy seen across the valley.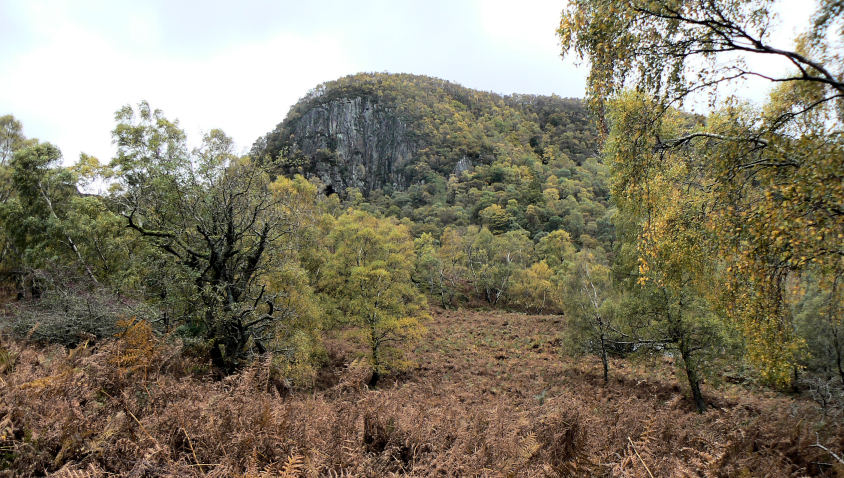 Great End Crag, the Borrowdale face of King's How, the first summit of the day.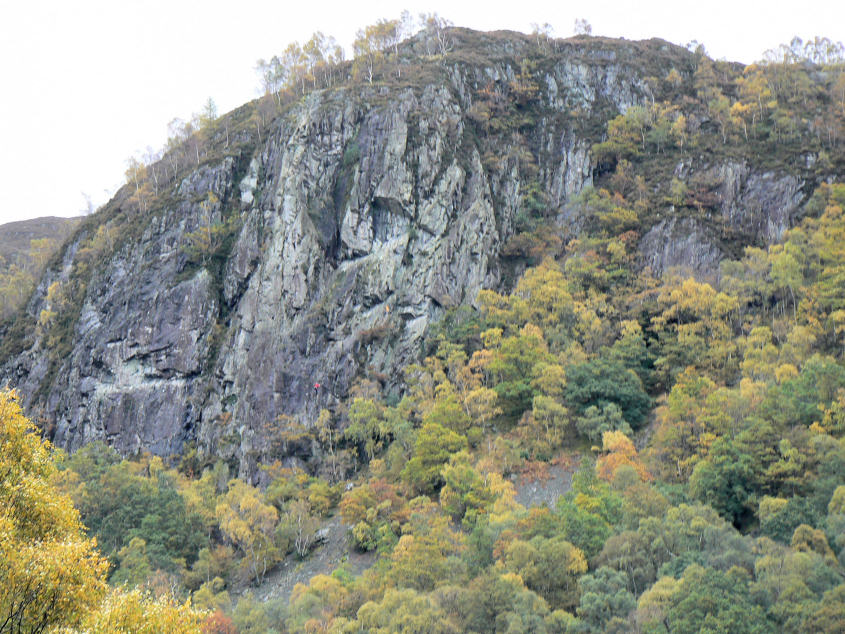 Climbers on Black Crag.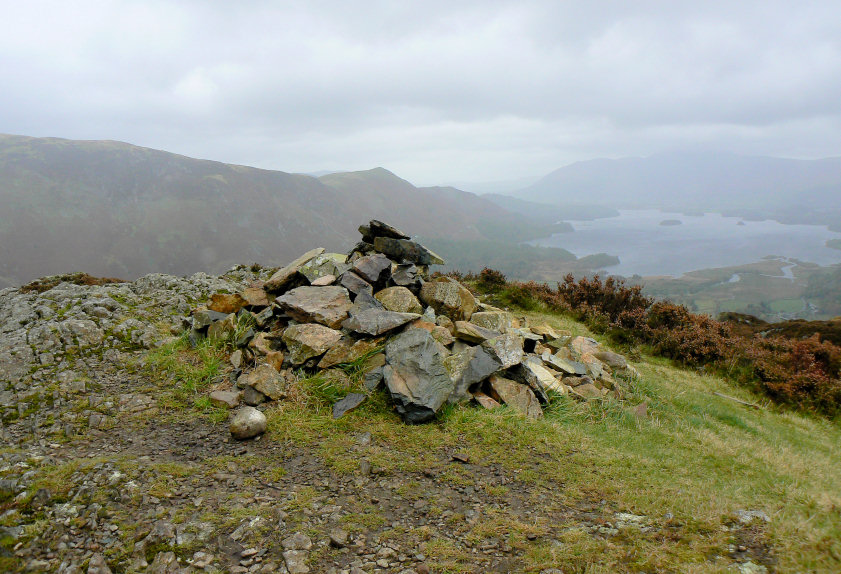 The only shot it was possible to take on King's How summit. As soon as we reached the summit we were hit by very strong winds and rain. It was only possible to point the camera in one direction and even then I had to be sat down in order to keep the camera steady. The forecast wasn't wrong about the strength of the wind.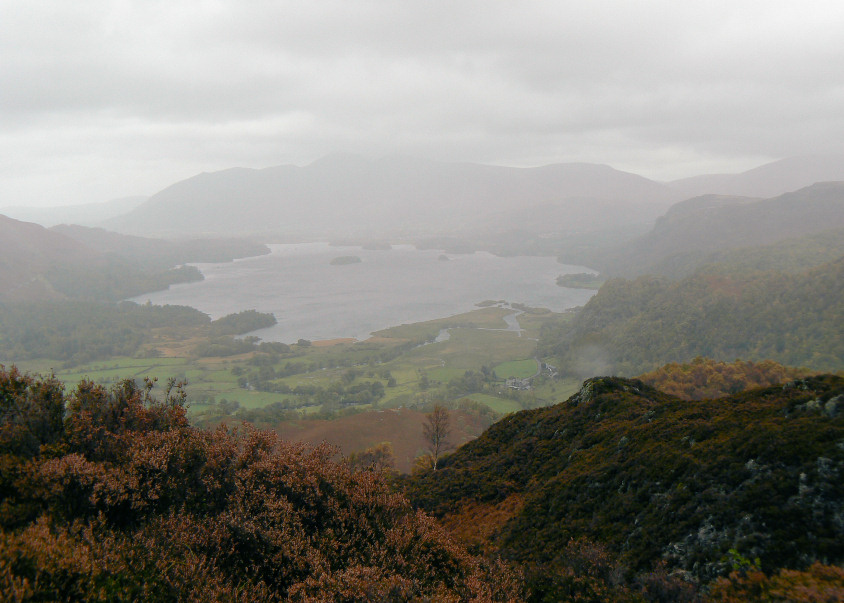 Derwent Water taken from below King's How's summit.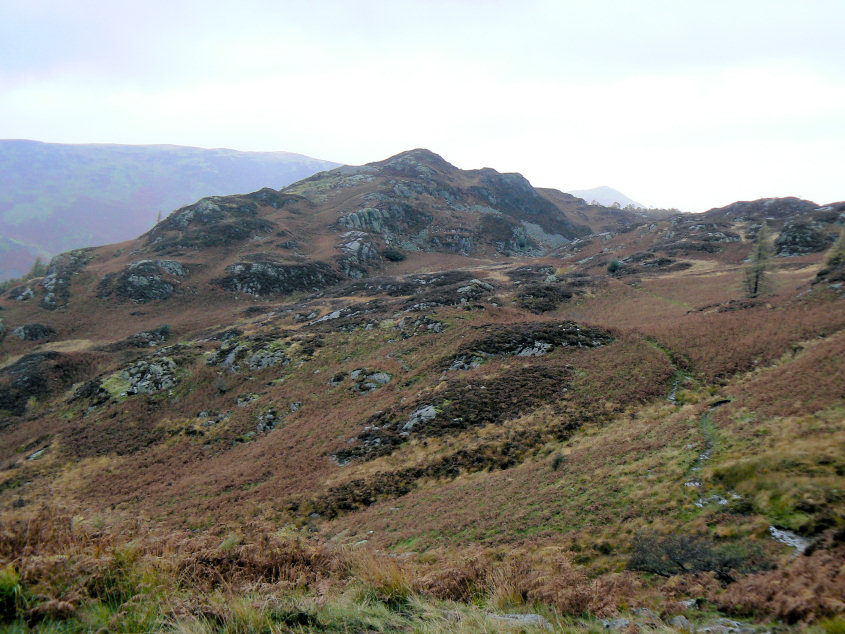 The rain stopped long enough for me to get my camera out and take this shot looking back to King's How as we headed towards Brund Fell.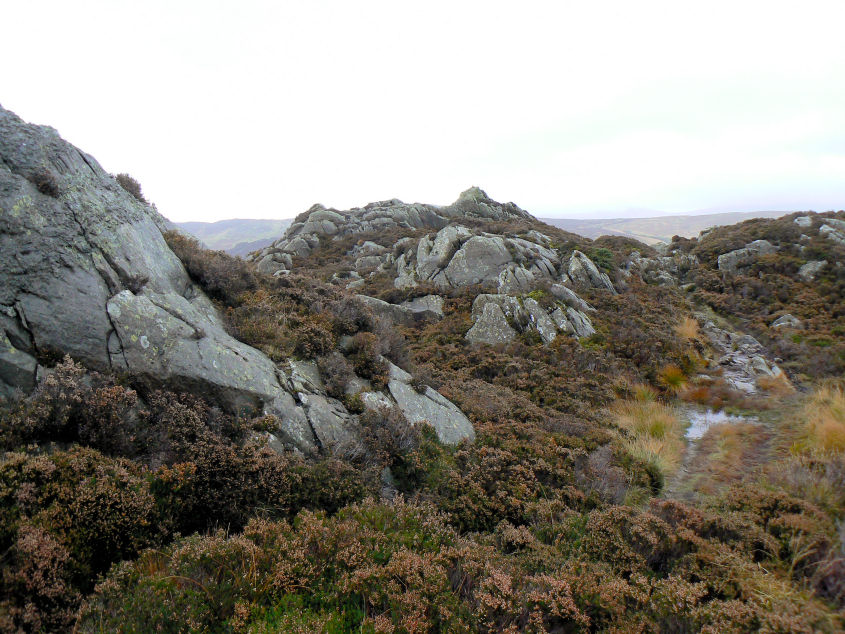 Approaching Brund Fell's summit.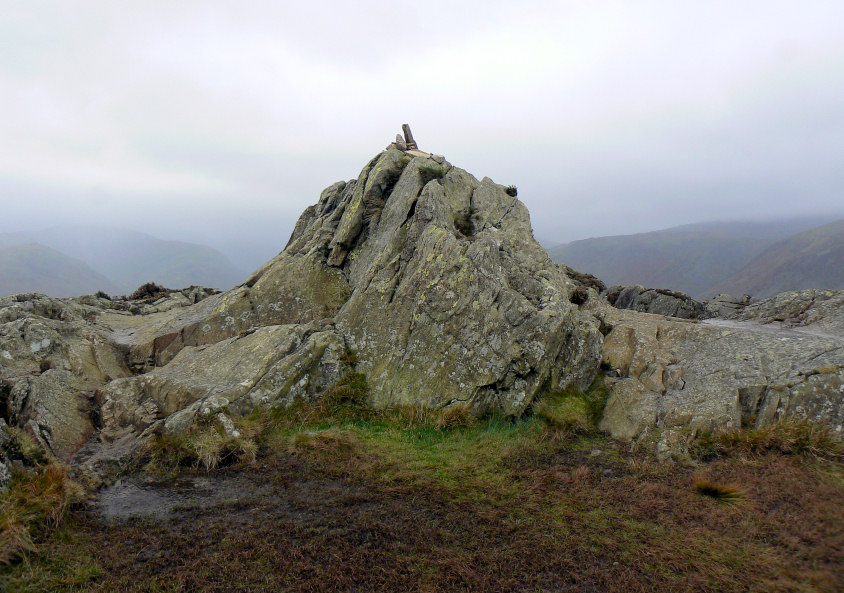 Brund Fell's summit, where once again standing still wasn't the easiest thing to do.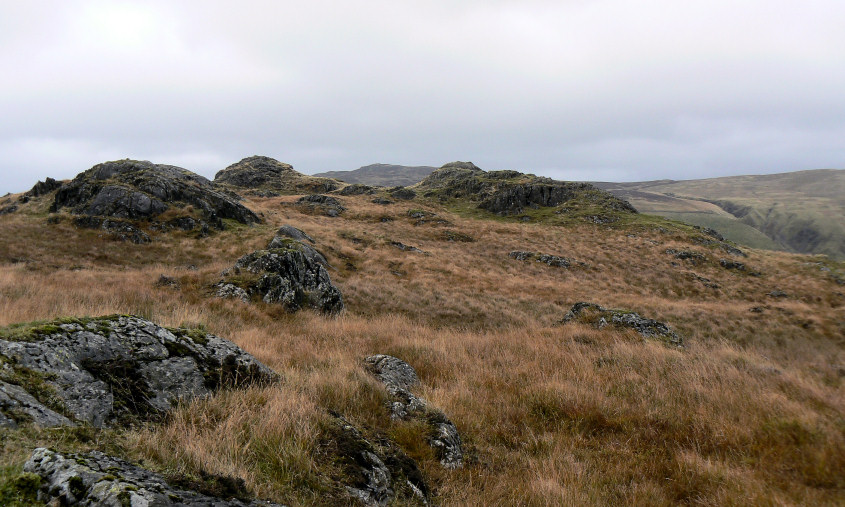 Looking towards High Seat.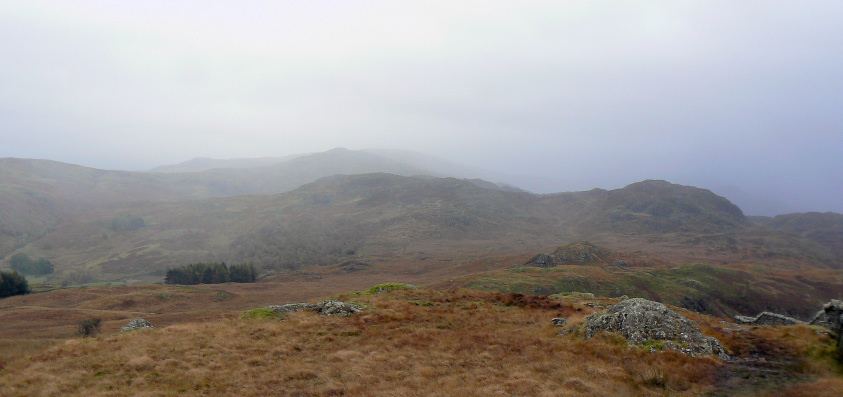 A few minutes earlier Pike O'Stickle had been in view but the rain that was heading our way had obscured it by the time I took this picture. The original plan had been to walk to Great Crag but we abandoned that plan and headed for the valley floor, a wise decision judging by the ever increasing strength of the wind that we experienced once we were off the fells.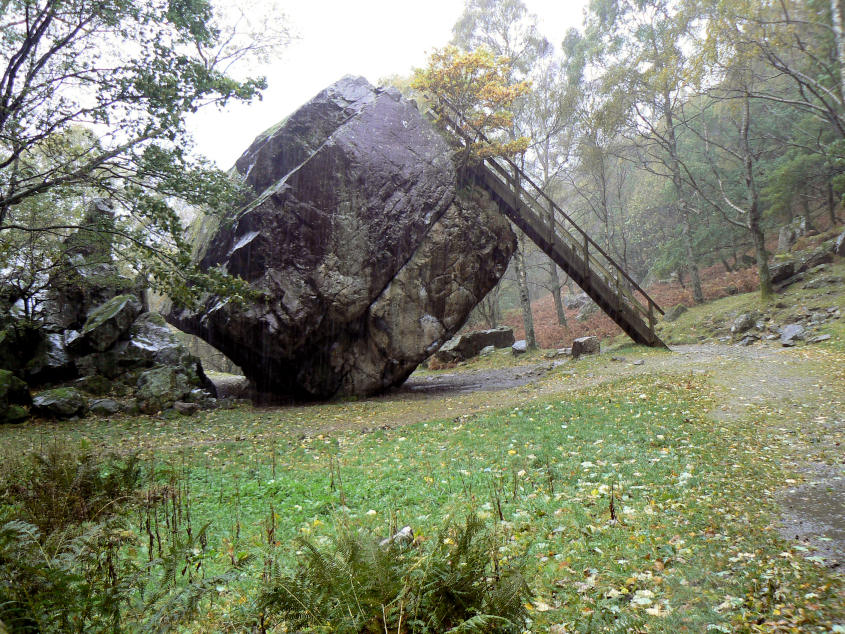 The Bowder Stone.
All pictures copyright © Peak Walker 2006-2023