High Raise - Lake District Walk
Monday 26th March 2012
As the fact it was ten years since our first holiday together had been used as the excuse for taking this trip it was only right that we also revisited the first few Lake District tops we ever did together during that holiday. Although the route wasn't the same as our first Lake District walk together the first four fell tops visited were the first we ever did together, the one major difference being we could at least on this trip see where we were walking and the views around us. One other difference was that now, ten years later, we had also walked on, or at least could name, most of the summits we saw during the day. One anniversary we weren't planning on repeating was the fact that today was also exactly ten years to the day since I broke my leg whilst coming down from Helvellyn.
Start: Red Lion Hotel, Grasmere (NY 3364 0757)
Route: Red Lion Hotel, Grasmere - Silver How - Lang How - Swinescar Pike - Castle How - Blea Rigg - Sergeant Man - High Raise (TP) - Low White Stones - Far Easedale - Red Lion Hotel, Grasmere
Distance: 11.25 miles Ascent: 883 metres Time Taken: 8 hours 30 mins
Terrain: Generally on clear paths.
Weather: Hot and sunny.
Pub Visited: Lamb Inn, Grasmere Ale Drunk: Hawkshead Bitter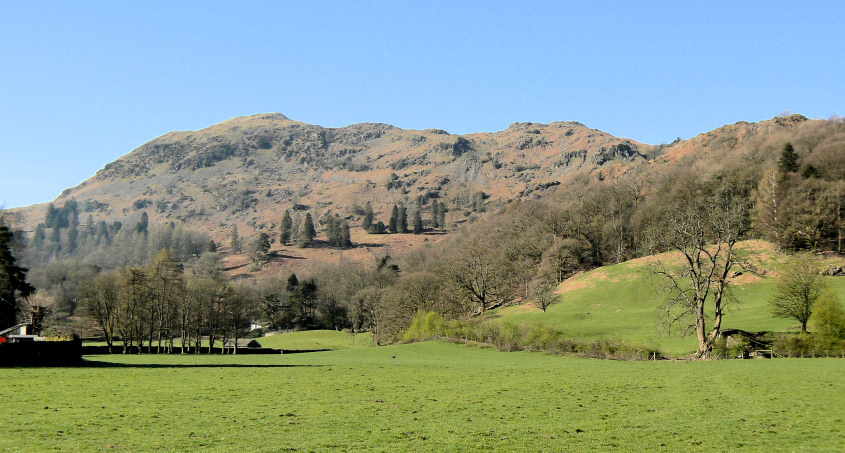 Setting out from Grasmere and the view across to Silver How, which was pretty much the same view as we had from one of our hotel room's windows.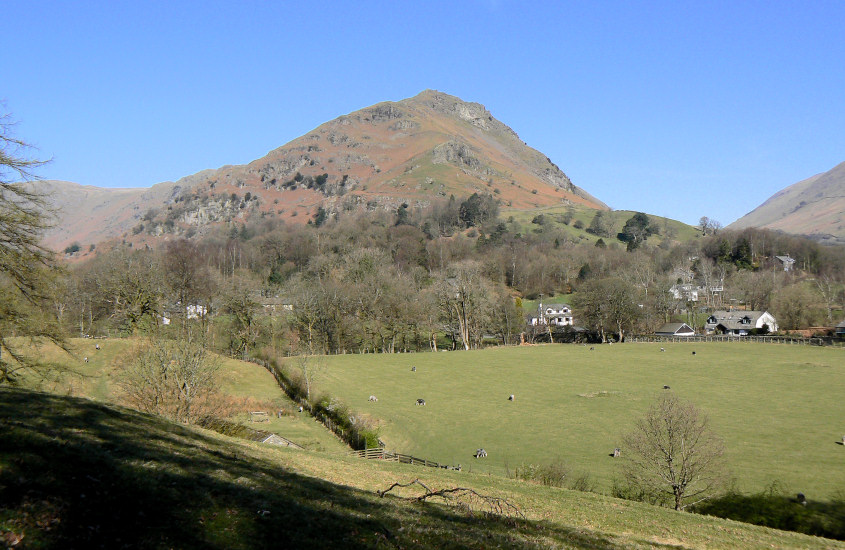 Following the track to Silver How and Helm Crag is visible across the valley.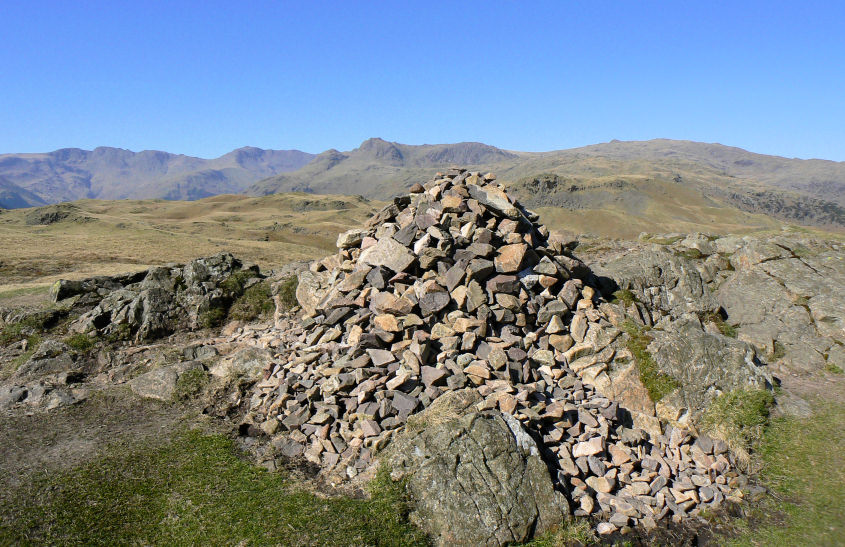 Silver How, the first summit of the day is reached. In the distance Sergeant Man, one of the final three summits of the day, is visible on the horizon.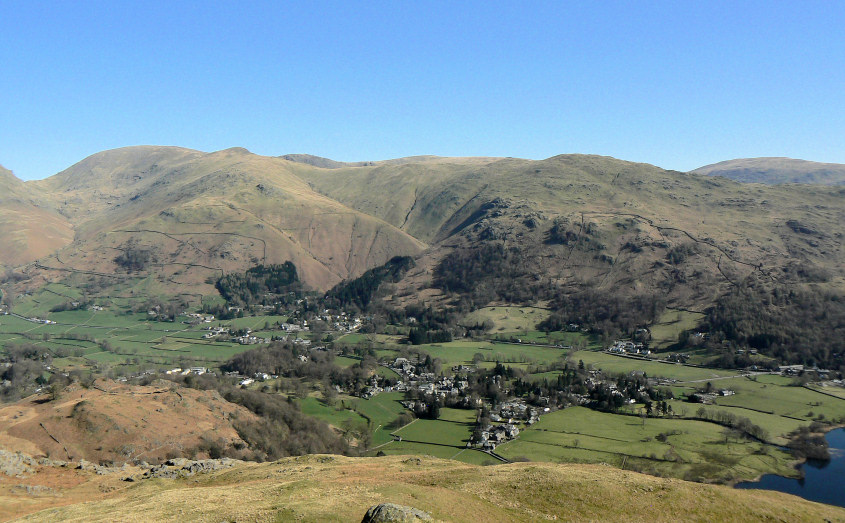 From Silver How's summit the place where I broke my leg is visible. Not a bad view across to Fairfield either.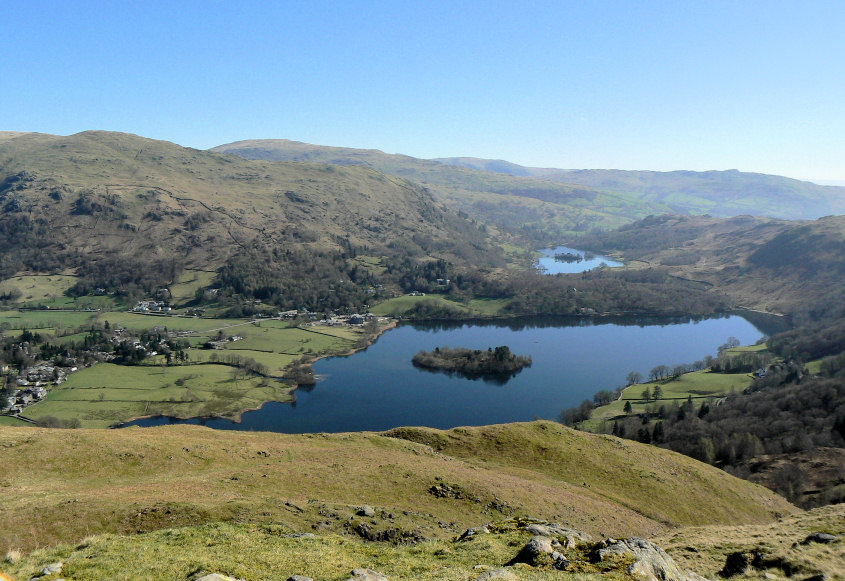 Grasmere and Rydal Water look very inviting.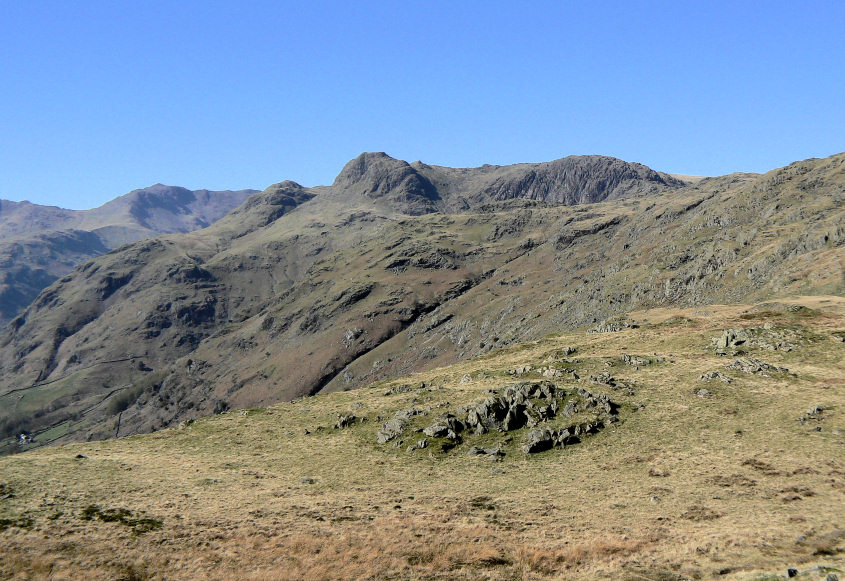 As we walked along the ridge to Sergeant Man the Langdales and Bowfell were constantly in view.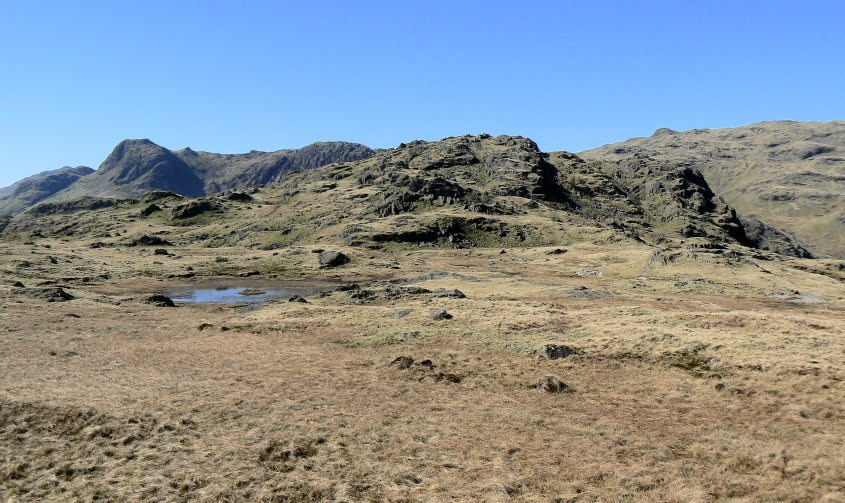 Lunch was taken on Castle How's summit and then we headed for Blea Rigg. We believed that Blea Rigg was the final summit we did on our first walk together but whilst on route to it neither of us could recall a short rocky section we encountered. Either way we have definitely visited its summit now.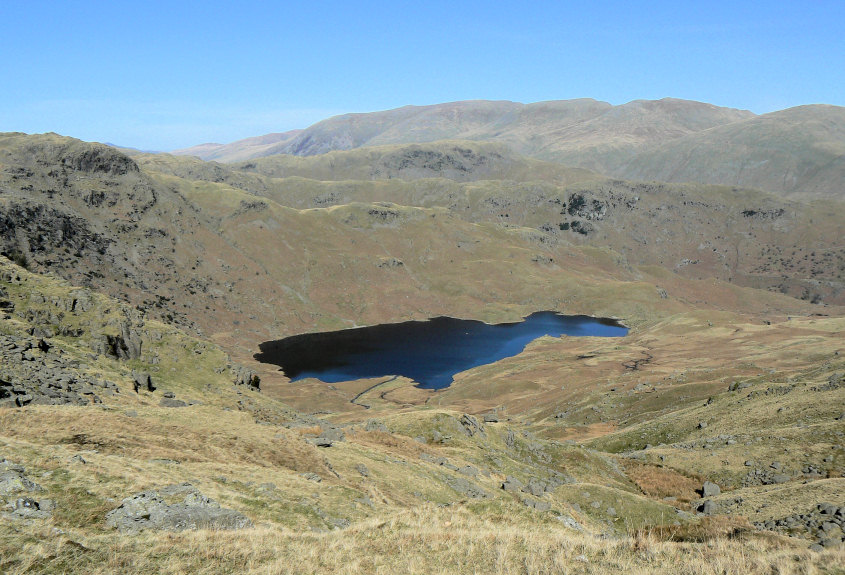 On route to Blea Rigg we get our first view of Easedale Tarn, which could have been on our return route.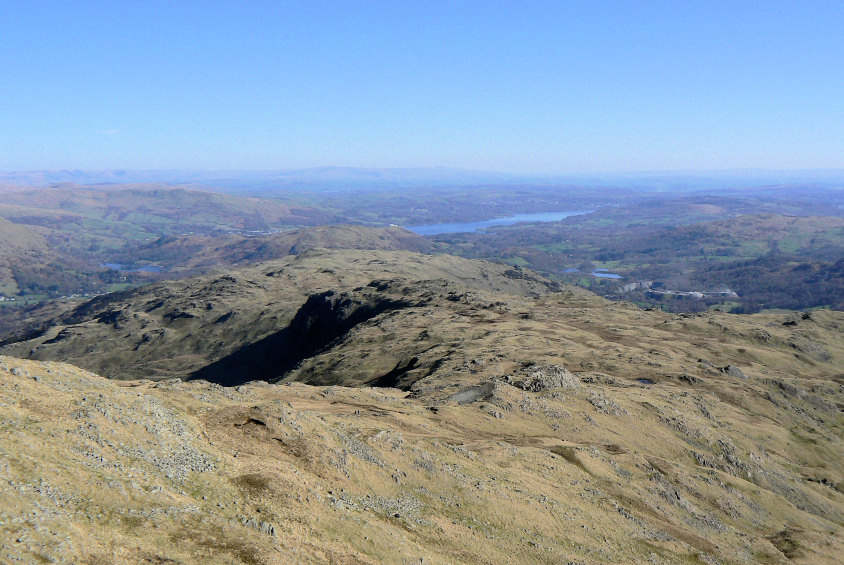 From Sergeant Man's summit we get a view back down the ridge we have just walked along. In the distance the views are starting to get a little hazy now.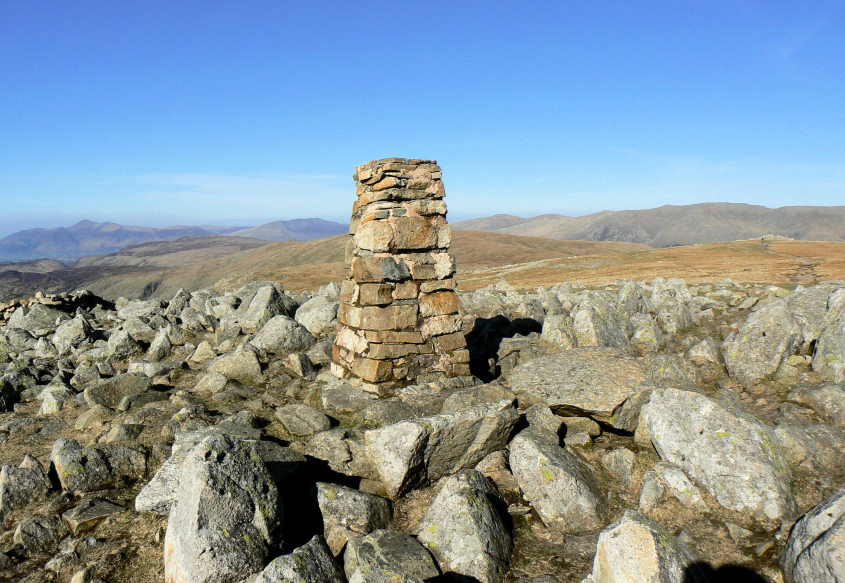 Whilst at Sergeant Man we decided to take the longest of the three routes we had planned for the day and headed for High Raise. The last time we were here the only view was of cloud and sleet so it was nice to enjoy the views this time.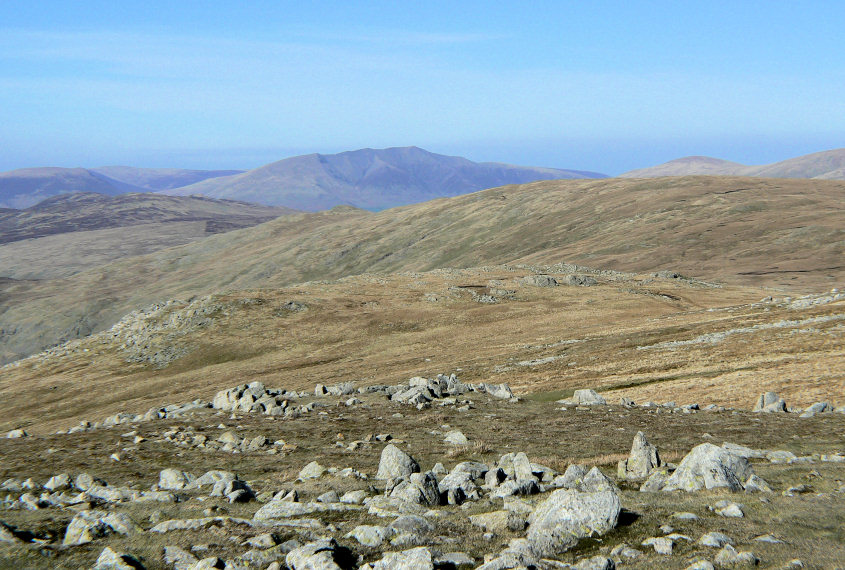 Which included Blencathra.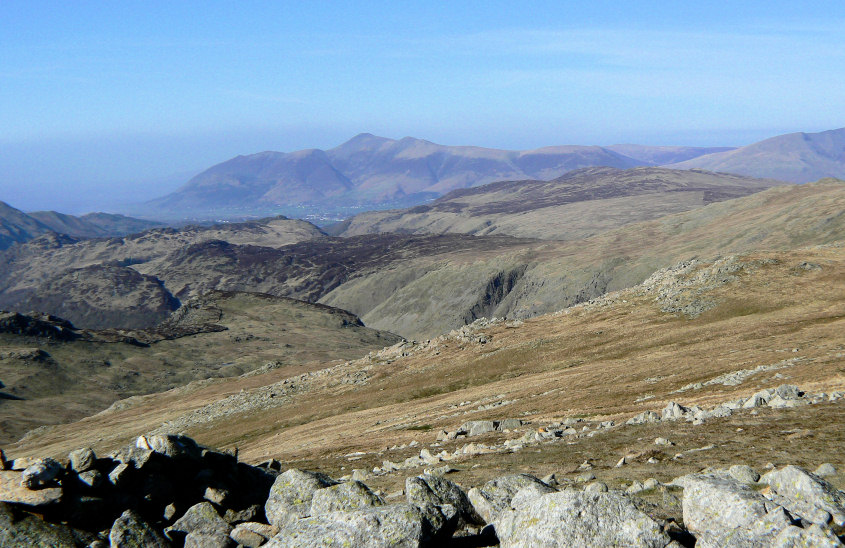 Along with Skiddaw.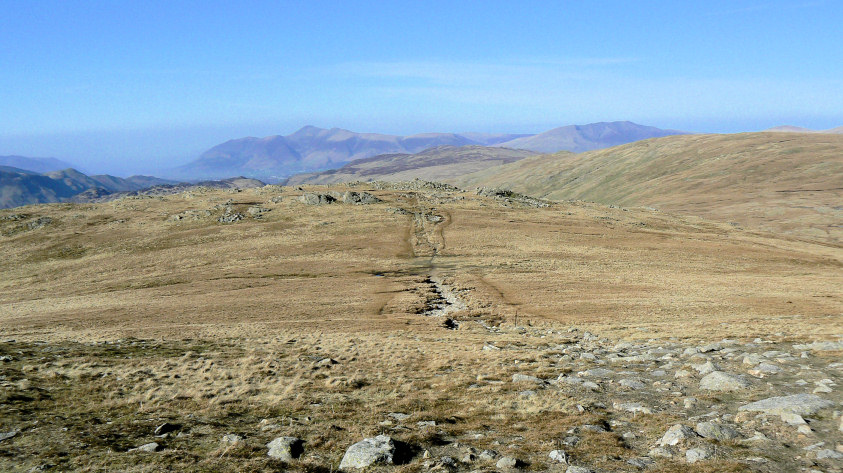 Heading for Low White Stones and still enjoying much better views than when we were last here.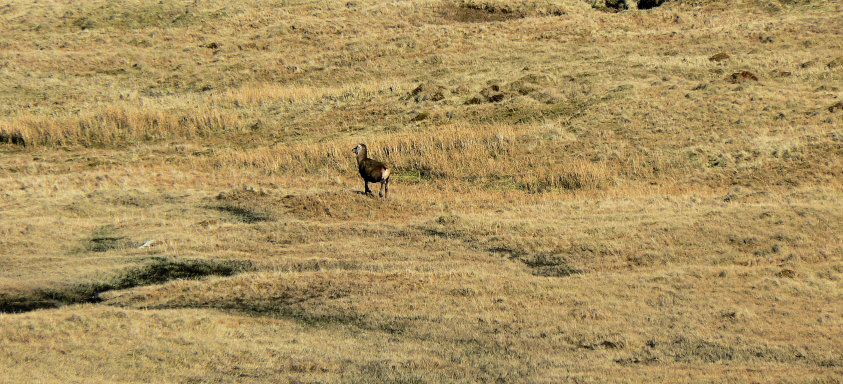 As we cut across towards Greenup Edge this lone deer came into view.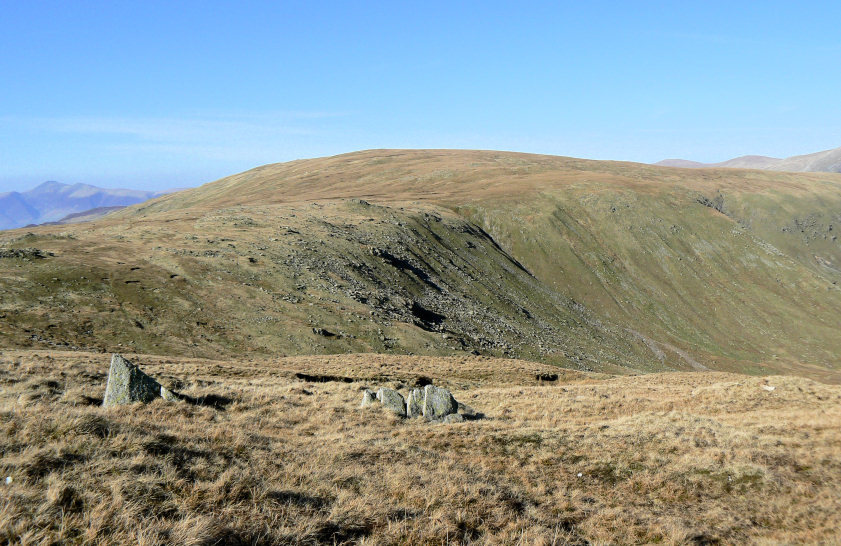 Ullscarf across Greenup Edge as we start to drop off Birks.
At the top of Far Easedale another decision, are we going down the valley or along the ridge like the gentleman in shot.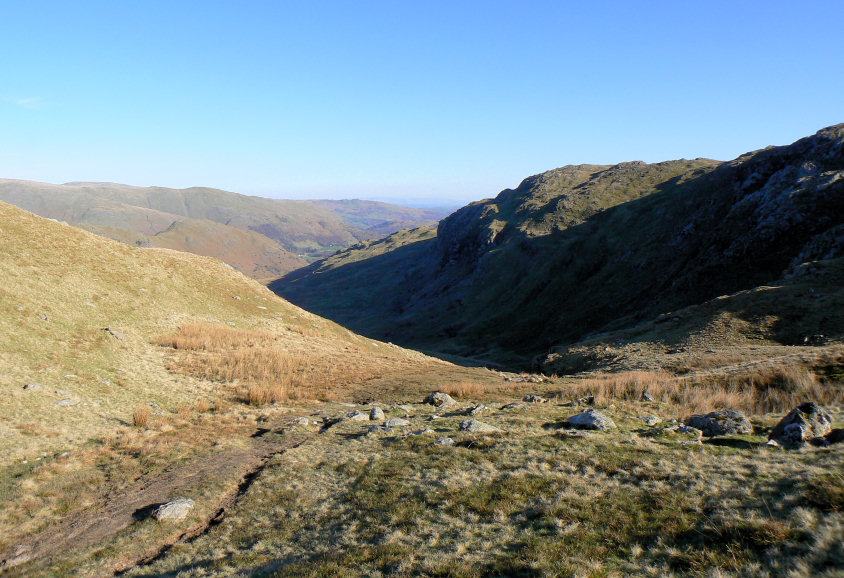 Tired legs meant we opted for the easier route and headed down into Far Easdale.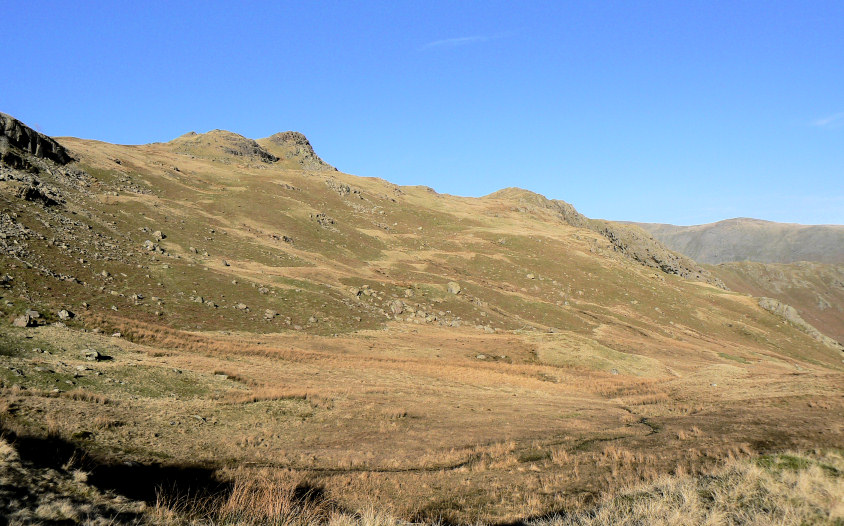 Looking up at Calf Crag as we make a final stop to enjoy the last of the sunshine.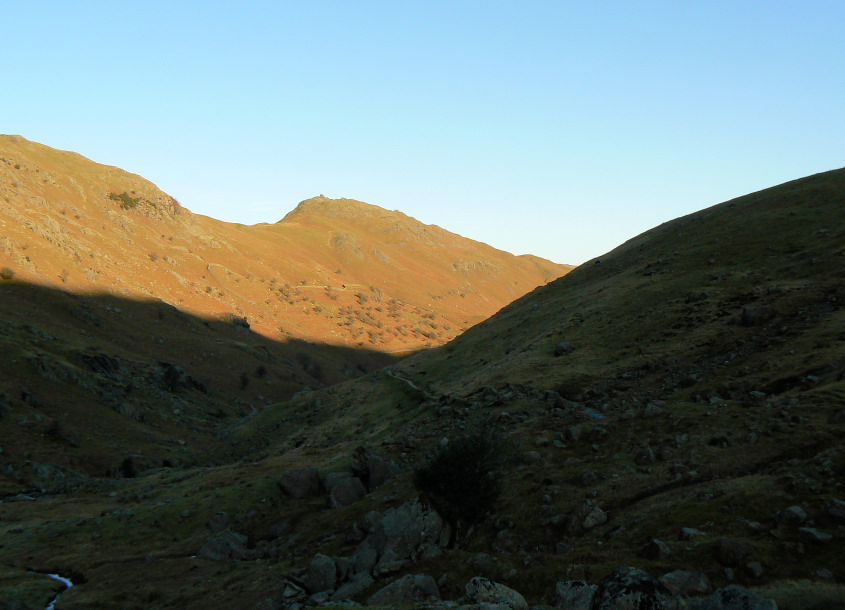 As we headed down Far Easedale we soon found ourselves walking in the shade but ahead of us Helm Crag was still bathed in sunshine.
All pictures copyright © Peak Walker 2006-2023