Wolfscote Dale - Peak District Walk
Wednesday 5th January 2022
With a bright and dry day forecast we decided to start 2022 as we hope to continue it, with a lot more walking than the previous two years have allowed. Yet again needing to consider how much rain we seemed to have had recently and how wet the fields would be we opted for a favourite route, Wolfscote Dale from Alstonefield. What we hadn't counted on was a major diversion before the walk, which took us miles out of our way due to a very short section of the road beyond Grangemill being closed, something to check on over the next few weeks.
Start: Alstonefield Memorial Hall (SK 1298 5562)
Route: Alstonefield Memorial Hall - Narrowdale Hill - Narrowdale - Frank i' th' Rocks Bridge - Wolfscote Dale - Lode Lane - Alstonefield Memorial Hall
Distance: 6.25 miles Ascent: 246 metres Time Taken: 3 hrs 40 mins
Terrain: Clear paths
Weather: Sunny but cold in the shade, with a biting edge to the wind
Pub Visited: None Ale Drunk: None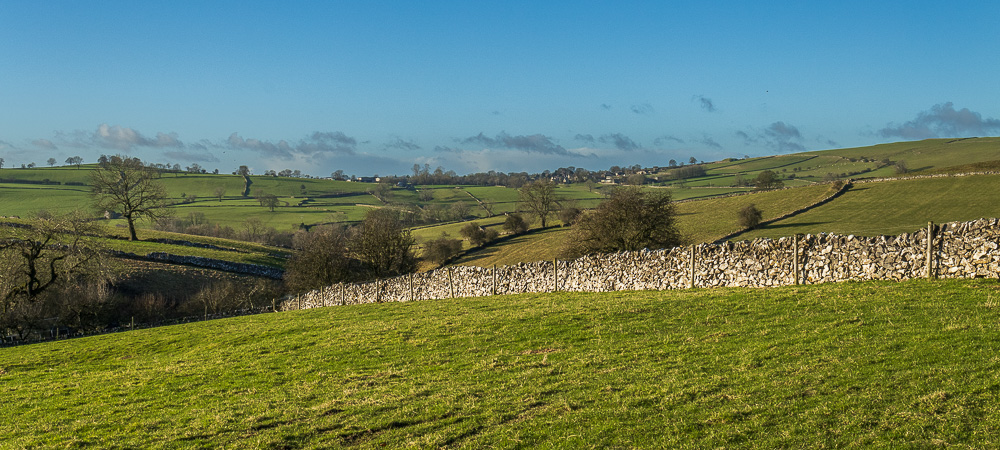 Looking across to Wetton as we leave Alstonefield.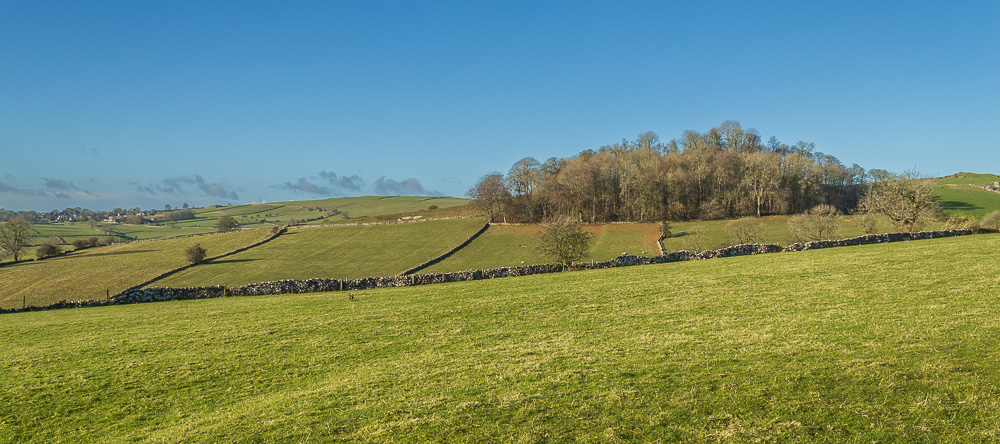 Looking across to Steep Low from the same spot. We didn't hang around admiring the view for too long as there was a bitter edge to the breeze and our fingers were getting cold very quickly.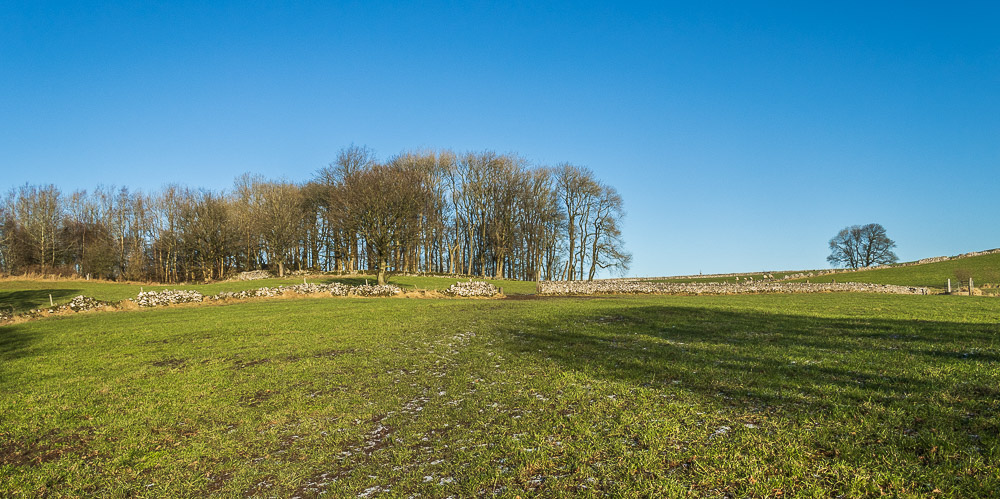 Our route, which will take us across the fields to the corner of the wood, is made much easier due to the frozen ground and dusting of snow.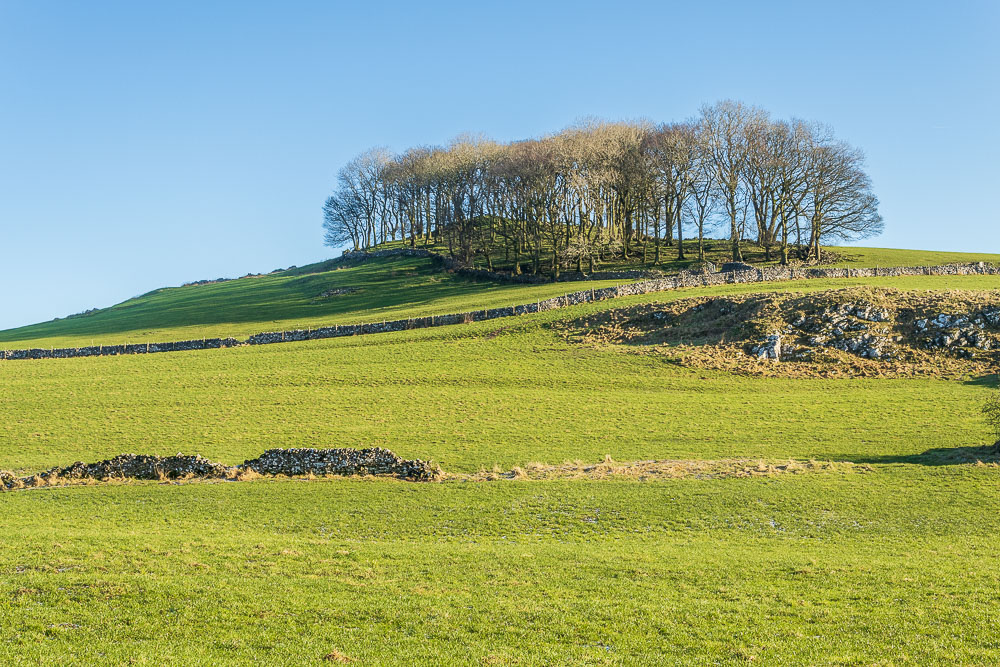 As ever Low Plantation attracts my attention. One day I must follow the track around the other side of it and see how it photographs from that angle, maybe one for the spring.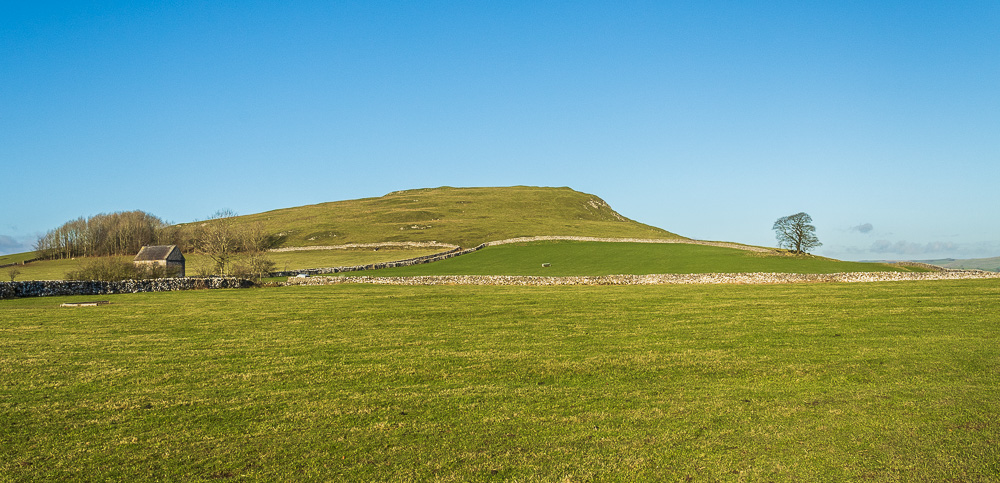 Having dodged the iced over puddle in the lane we get our first view of Narrowdale Hill. Any thoughts of heading up it today are quickly dismissed given how cold it is.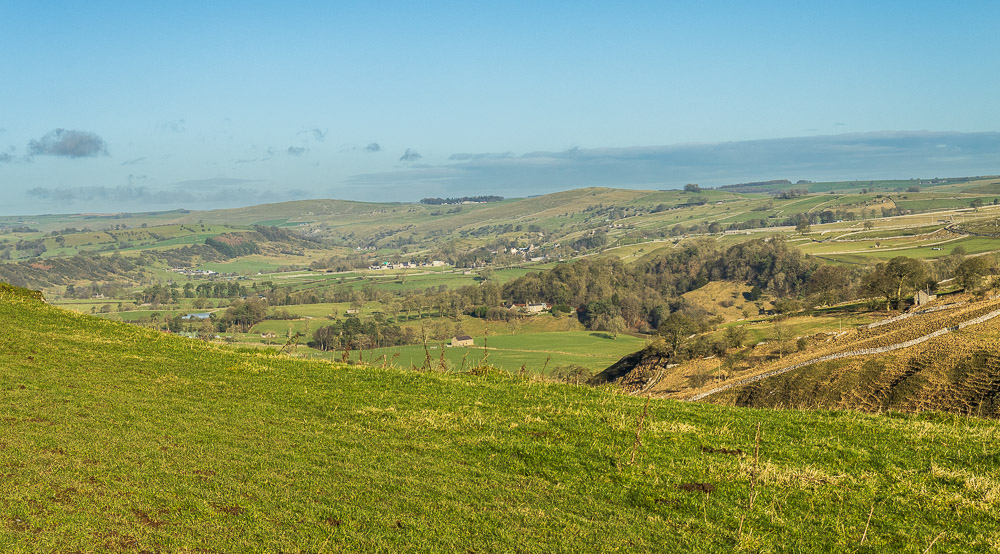 Following the track below Narrowdale Hill we are soon rewarded with views across the valley to Carder Low and Pilsbury Castle.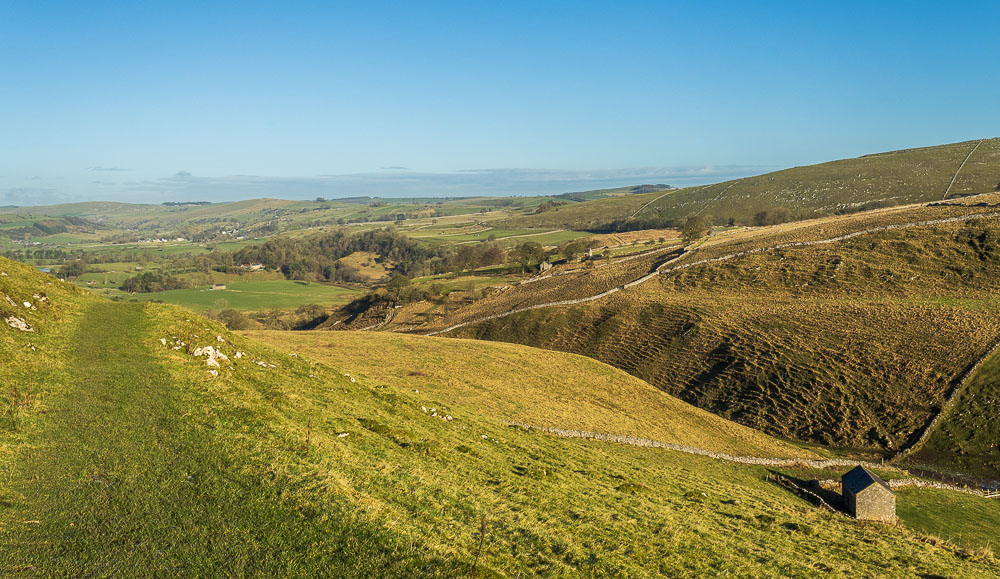 Walking below Narrowdale Hill we are out of the wind and we soon started to warm up but the ground remains fairly frozen. The lack of cows and probable frozen ground means that maybe today was one of the times we could have dropped down to How Narrowdale.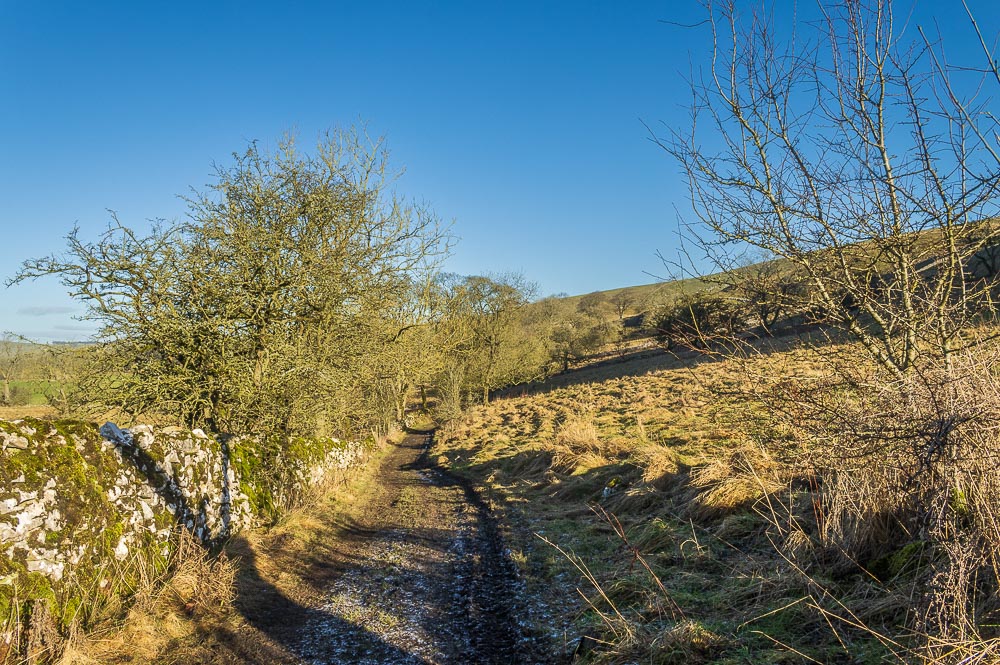 It is only once we reach Narrowdale that we actually meet any other walkers. Despite the sunshine it appears that the number of walkers out during the week may be returning to pre-covid/furlough levels.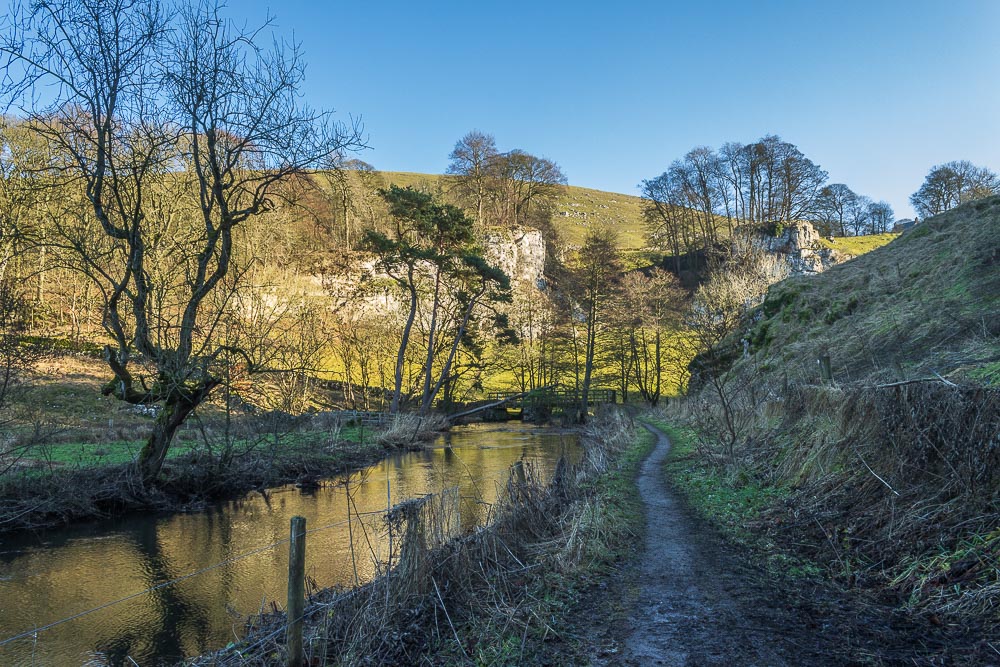 As we leave Narrowdale and head for Wolfscote Dale the sunshine lights up one of my favourite views of this walk.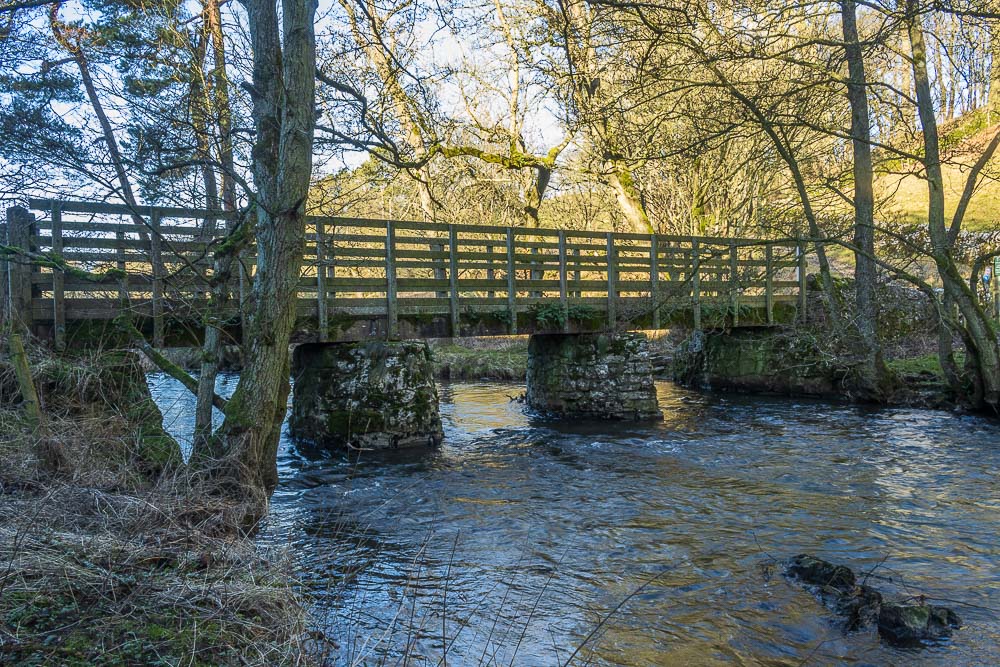 Before I cross the bridge I nip down the side of the river to see if the view is worth making the effort to return armed with a tripod one day.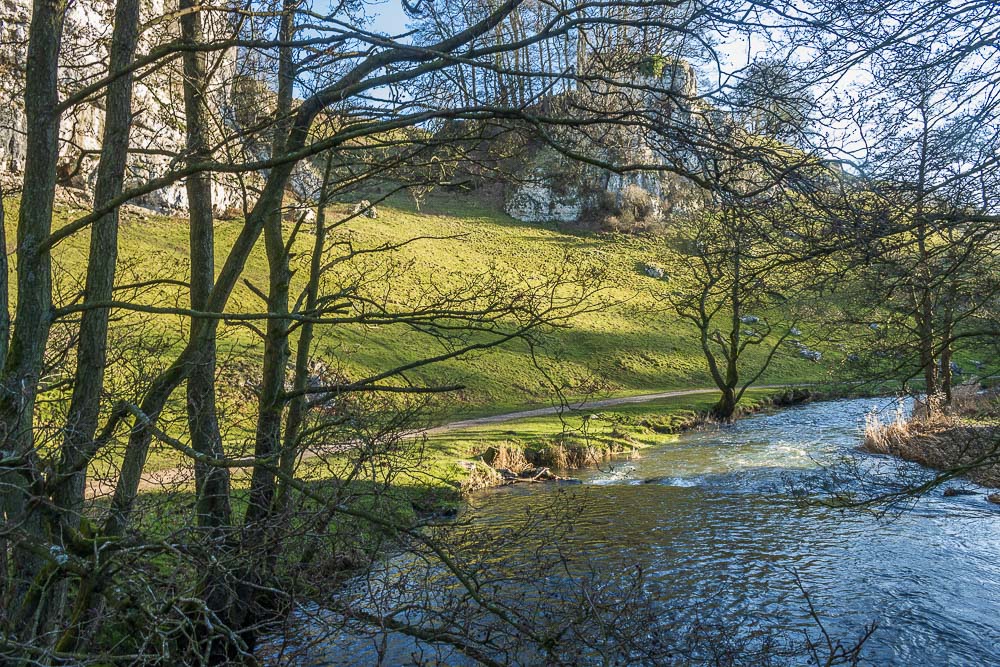 Despite what another walker had told us Wolfscote Dale looks very quiet.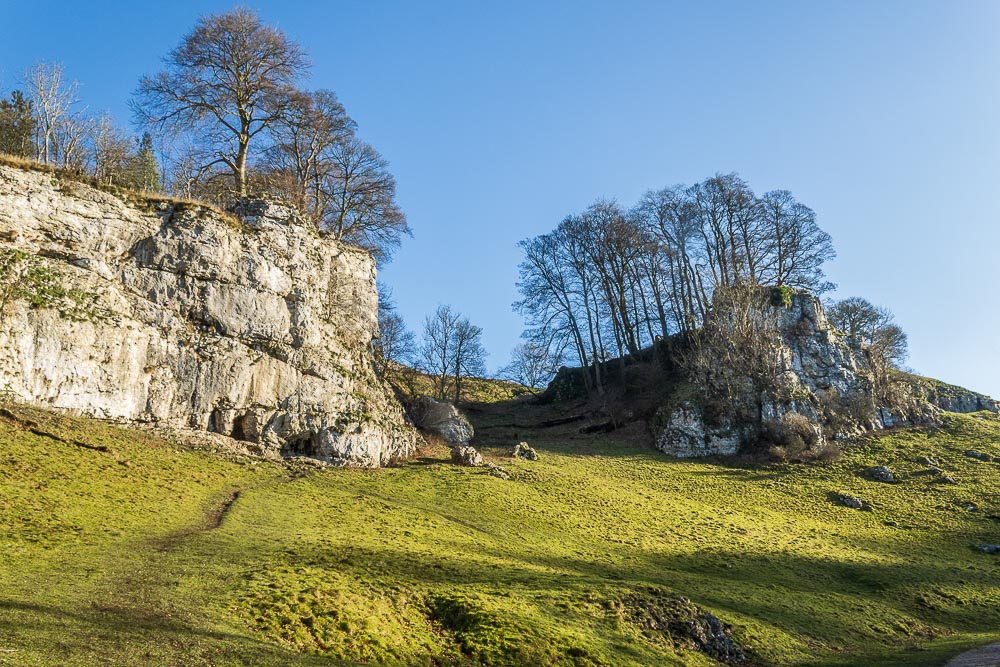 The bright sun illuminates the limestone around the caves at the entrance to Wolfscote Dale.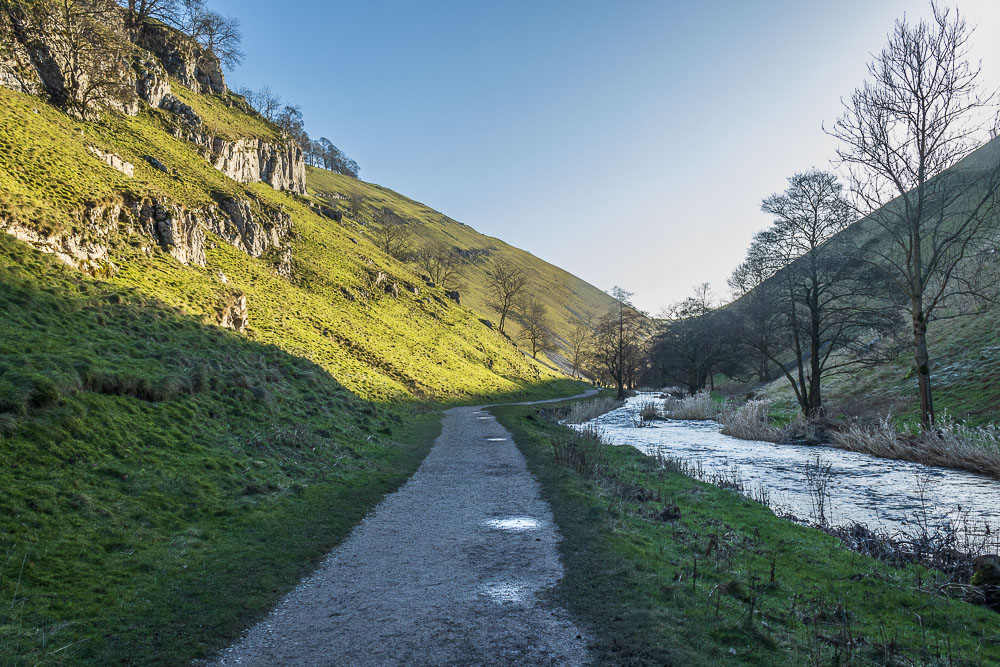 A nearly deserted Wolfscote Dale.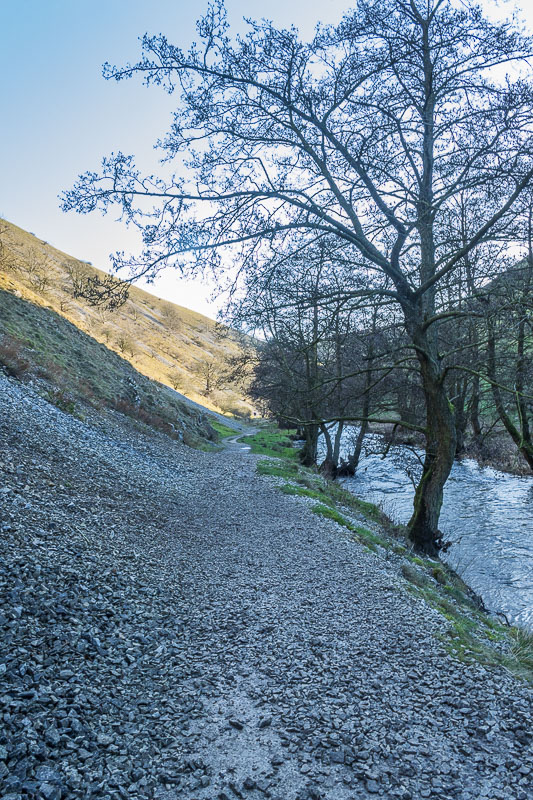 Plenty of sunshine seems to have ensured the dale is free of icy patches, which is
good news. It's just a shame I forgot to put my polarising lens
back on - again.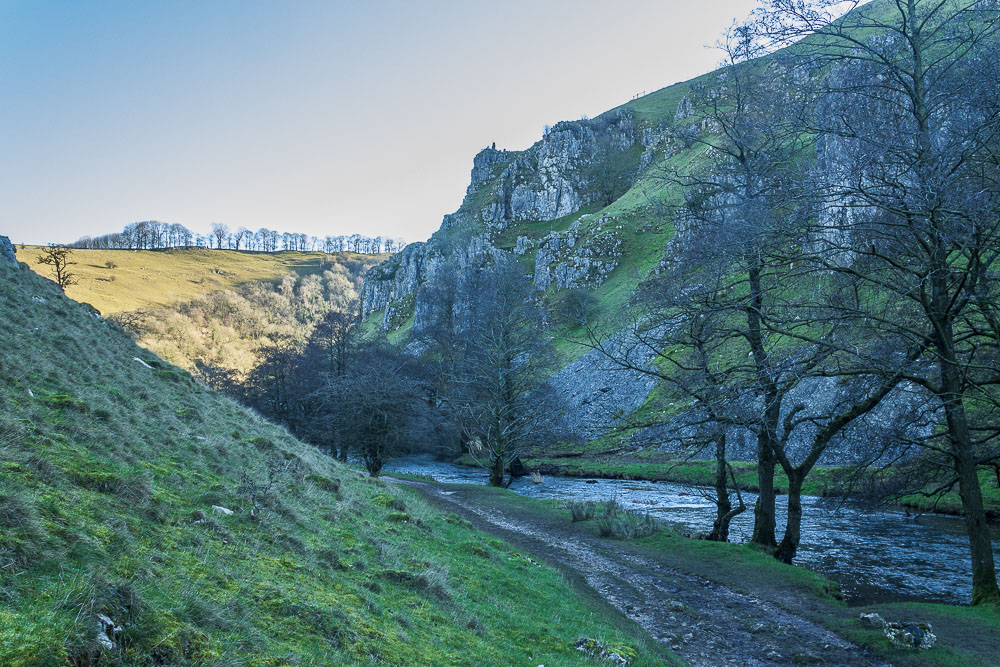 As we approach Peaseland Rocks thoughts turn to finding a dry and warm spot for lunch.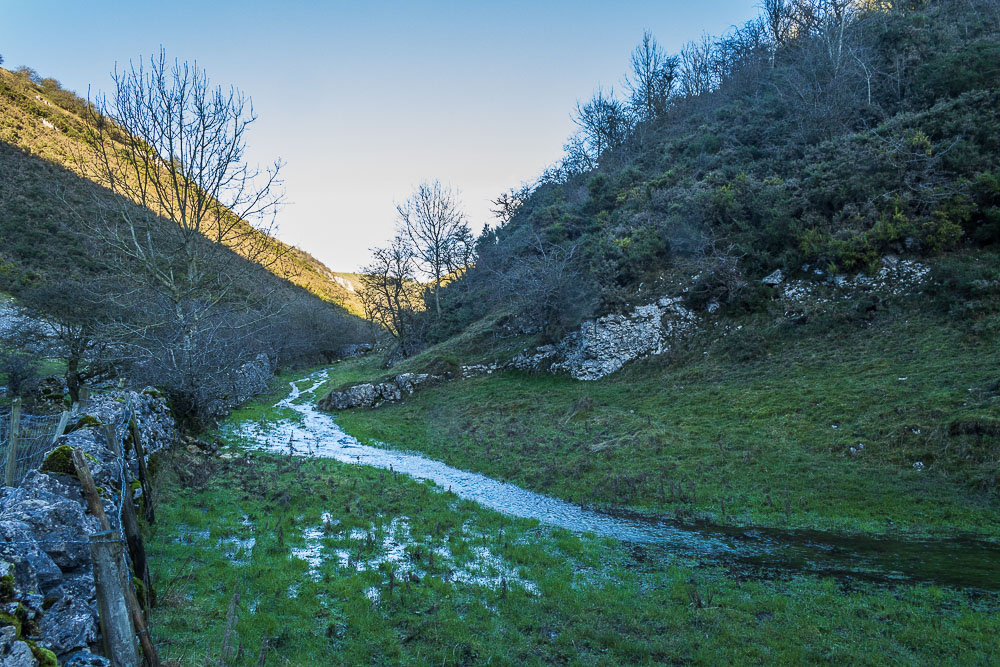 There is plenty of water running down Biggin Dale today, but as it is in the shade we decide to continue down Wolfscote Dale in search of a spot in the sun.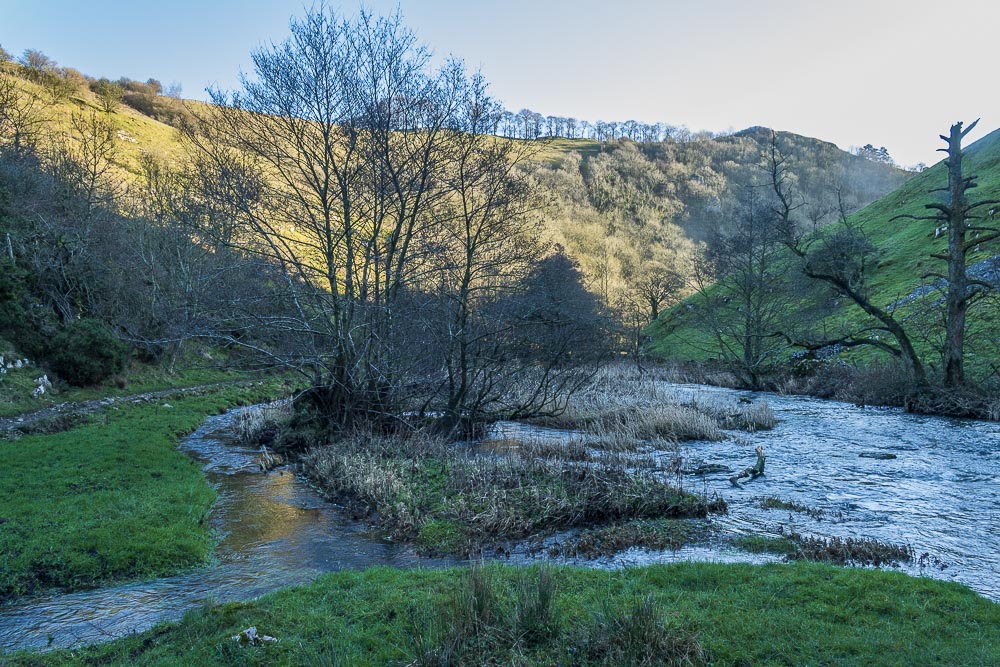 Looking along Wolfscote Dale it looks like there might be a warm spot up ahead.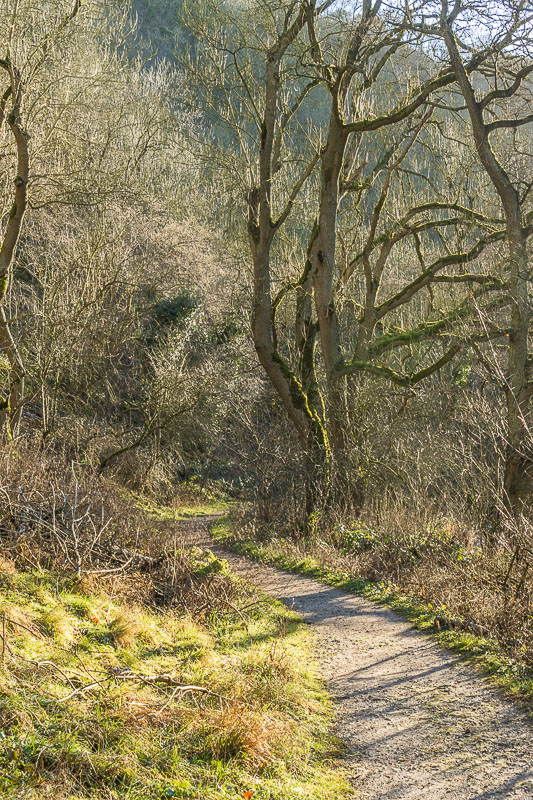 Just beyond the cave we find a spot where the sun finds the bottom of the dale
and enjoy a very pleasant and warm lunch.
Looking back up the dale from our lunch spot. Beats watching a
repeat of Blue Bloods whilst I have my lunch.
Dragging ourselves away from our warm lunchspot we soon find ourselves back in the shade, although Gipsy Bank is still catching some sunlight.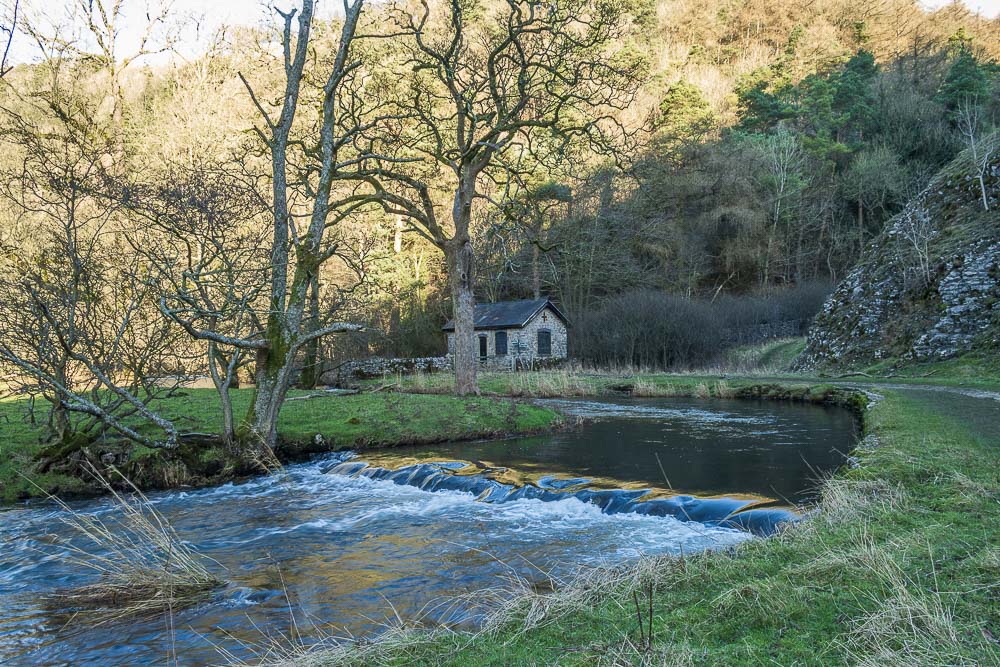 We soon reach Coldeaton Bridge and as there is plenty of daylight left we opt to continue along Wolfscote Dale, rather than cross the bridge and head up to the lane to the youth hostel.
We remain in the shade on this side of the dale, but the slightly frozen ground means we avoid getting too muddy.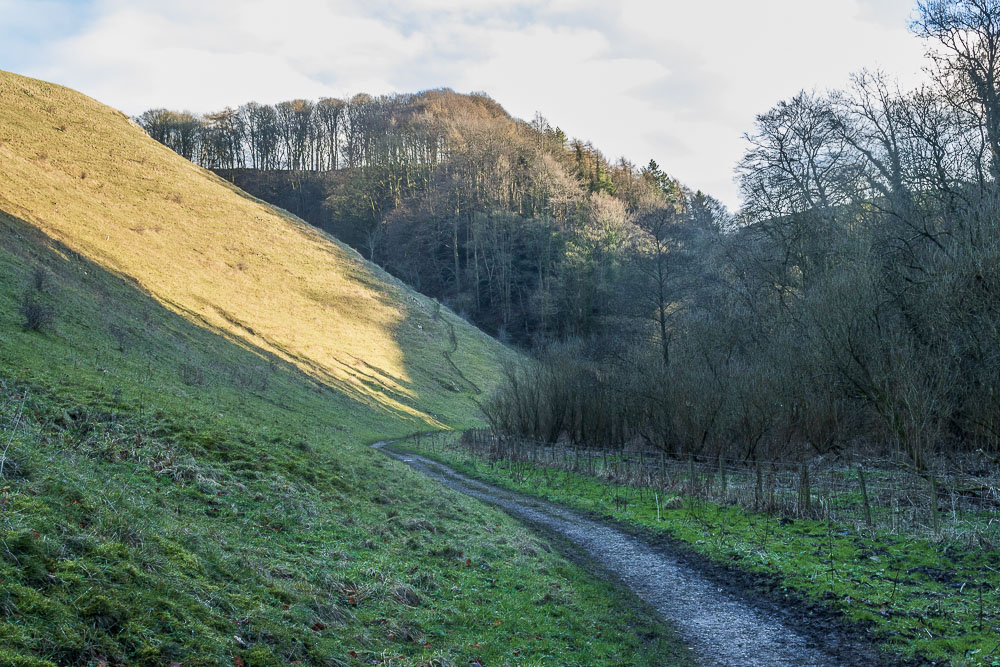 As we approach the end of the dale we debate which route we will use back to Alstonefield. One option is to head down to Milldale and take the path at the back of the ice-cream booth across the fields to Alstonefield, but we know this will be very muddy.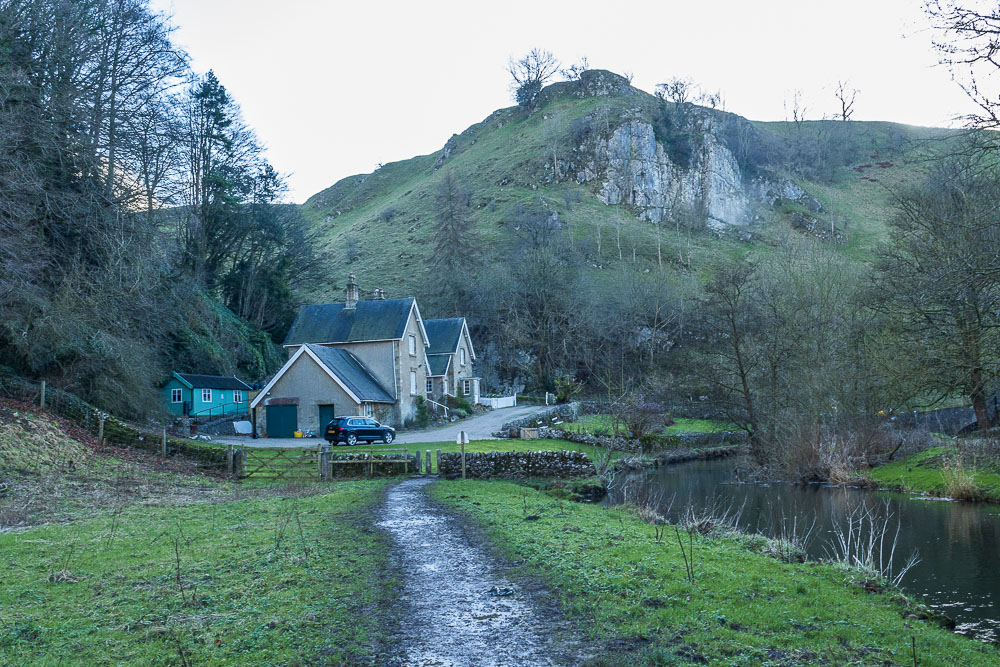 With Shining Tor coming into view we need to decide which way we are going.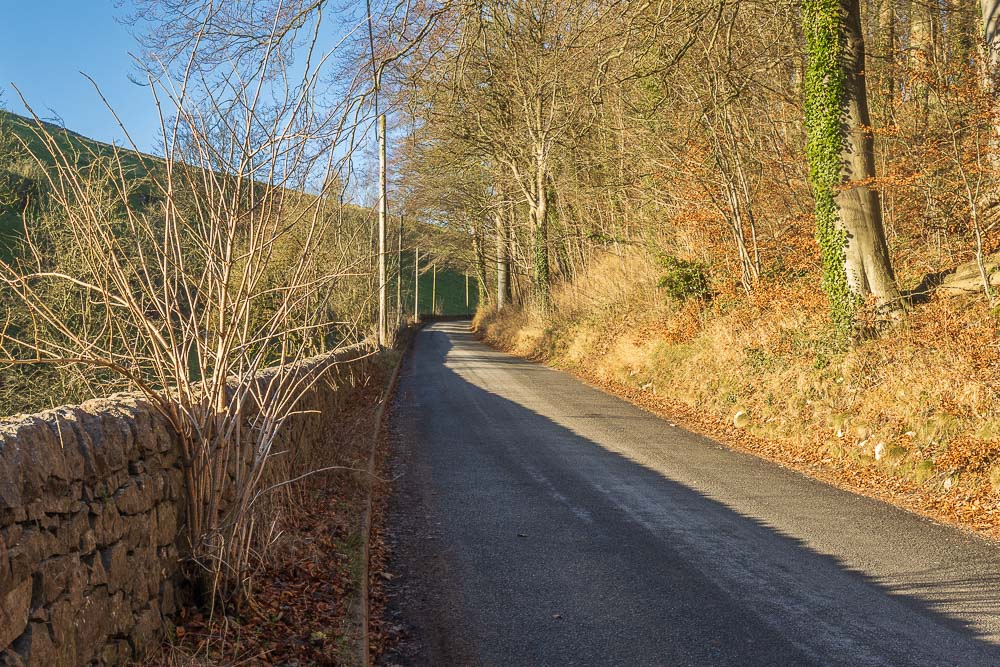 We pass on risking a mudfest and instead start the steady climb up Lode Lane back to Alstonefield.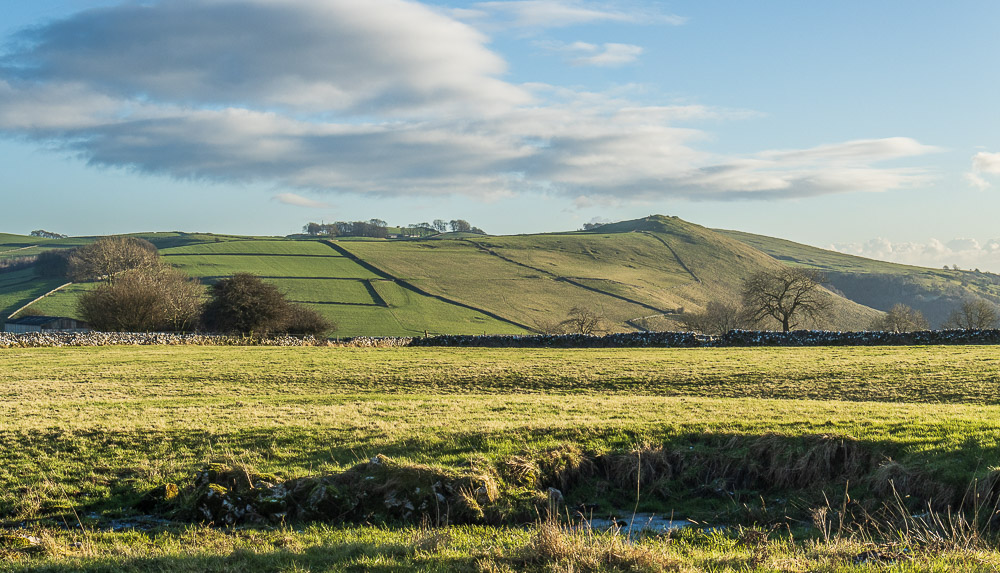 Once out of the trees we start to get views across the fields towards Dove Dale. Here looking at Baley Hill.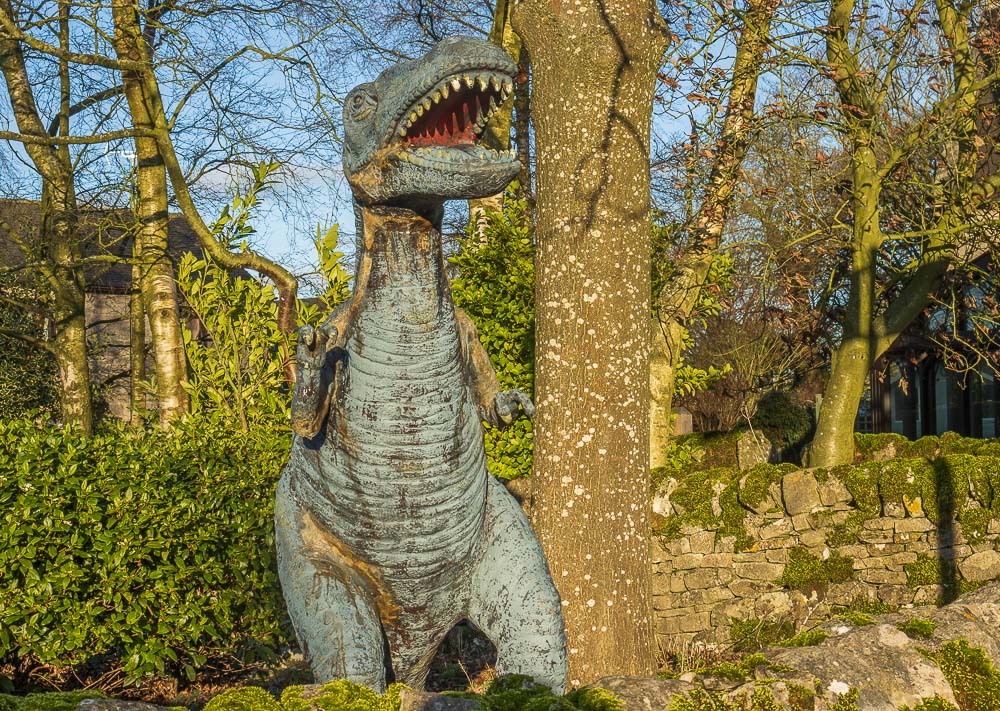 As we approach Alstonefield we keep our eye out for the dinosaur we saw last time we were here. He/she is still in residence although no longer wearing a Santa hat.
All pictures copyright © Peak Walker 2006-2023